Yup, it's french toast. Made with cake.
I made french toast with angel food cake.
Yes, my dears, you read that correctly! We have been on a little french toast kick lately. We have tried different breads, thicknesses, egg-to-milk ratios, toppings and the like. I got this idea – the angel food cake idea – from an older issue of
Bon Appetit
magazine. What a great resource! Their suggestion: substitute sliced angel food cake for bread in your favourite french toast recipe. My eyes glazed over and after I finally retrieved my chin from the floor, I had made a decision. Challenge accepted!
I find angel food cake to be very sweet. While I was sure the egg dip would tone that down a little, I wanted to offset that sugar-hit with the tartness of fresh raspberries, and the tang of creamed mascarpone cheese. I also made raspberry sauce (my sis-in-law calls me the Saucy Saucier, because sauce is awesome, and should be consumed in mass quantities).
The night before my experiment, I baked up an angel food cake. I left it to cool overnight on the kitchen counter, and to dry it out a little as well. OK, OK, you caught me. I forgot about it and went to bed. In spite of my neglect, the resulting cake was just a teensy bit dried out – perfect for soaking up some lightly-beaten eggs mixed with a bit of milk.
The result? Angel food french toast, served with a dollop of mascarpone cream, fresh raspberries and drizzled with raspberry sauce was a little bit of heaven. Dessert for brunch, if you will. I think this would also make a great dessert after a fancy brunch. The toast is very delicate and sweet, and soaks up the raspberries and cream like a dream.
Mmmm deliciously messy
I ended up with some leftover cake, and you probably will as well. Store it in an airtight container in your fridge, and get creative with some layered desserts!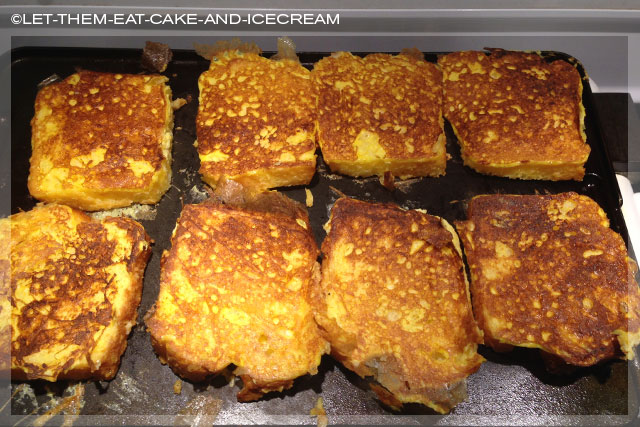 Golden brown goodness!
Click through for recipe and instructions
Angel Food French Toast with Mascarpone Cream and Raspberries
Serves 4-6
Equipment needed
Griddle pan or electric griddle
Stand mixer with whisk attachment
Large saucepan
Potato masher
Fine mesh strainer
Squeeze bottle
Angel food cake pan (if making yourself)
French Toast
One Angel Food Cake (make one out of the box, or buy a pre-made cake from the bakery)
6 eggs
1/4 cup milk
Pinch of sea salt
Raspberry Sauce
1 - 600g bag of frozen raspberries (about 3 cups)
1/4 cup sugar
2 Tablespoons Grand Marnier liqueur or other citrusy liqueur
Mascarpone Cream
1 250g tub of mascarpone cream cheese
2 Tablespoons sifted icing sugar
1 Tablespoon milk
1/2 teaspoon vanilla extract
1 Pint Fresh Raspberries
Non-stick Cooking Spray
Method
Slice angel food cake into 1" thick slices, about 2 per person, and set aside.
In a large saucepan, cook frozen raspberries over medium high heat until completely melted and bubbling. Turn heat down to medium and add sugar. Stir until sugar is dissolved.
Simmer raspberries for about 5 minutes or until the berries look like they have completely fallen apart.
Mash berries with a potato masher. Add liqueur and cook for another couple of minutes.
Remove from heat and press cooked berry mixture through a fine strainer. Store sauce in a squeeze bottle for convenience.
To make mascarpone cream: In the bowl of a stand mixture with whisk attachment, beat mascarpone cream cheese until light and fluffy. Sift in sugar and beat to combine. Add milk and vanilla and beat another 2 minutes until fluffy. Set aside.
In a small 8" x 8" casserole, beat eggs, milk and sea salt until combined.
Heat up griddle to 350° or medium heat, spray with non-stick cooking spray and wipe off excess with paper towel.
Dip cake slices in egg mixture on both sides, taking care not to let slices soak up too much egg.
Place dipped slices on griddle and cook until golden brown. Flip slices over and repeat.
Serve french toast with a dollop of mascarpone cream, a handful of fresh raspberries and a drizzle of raspberry sauce.