Yup, it's french toast. Made with cake.
I made french toast with angel food cake.
Yes, my dears, you read that correctly! We have been on a little french toast kick lately. We have tried different breads, thicknesses, egg-to-milk ratios, toppings and the like. I got this idea – the angel food cake idea – from an older issue of
Bon Appetit
magazine. What a great resource! Their suggestion: substitute sliced angel food cake for bread in your favourite french toast recipe. My eyes glazed over and after I finally retrieved my chin from the floor, I had made a decision. Challenge accepted!
I find angel food cake to be very sweet. While I was sure the egg dip would tone that down a little, I wanted to offset that sugar-hit with the tartness of fresh raspberries, and the tang of creamed mascarpone cheese. I also made raspberry sauce (my sis-in-law calls me the Saucy Saucier, because sauce is awesome, and should be consumed in mass quantities).
The night before my experiment, I baked up an angel food cake. I left it to cool overnight on the kitchen counter, and to dry it out a little as well. OK, OK, you caught me. I forgot about it and went to bed. In spite of my neglect, the resulting cake was just a teensy bit dried out – perfect for soaking up some lightly-beaten eggs mixed with a bit of milk.
The result? Angel food french toast, served with a dollop of mascarpone cream, fresh raspberries and drizzled with raspberry sauce was a little bit of heaven. Dessert for brunch, if you will. I think this would also make a great dessert after a fancy brunch. The toast is very delicate and sweet, and soaks up the raspberries and cream like a dream. 
Mmmm deliciously messy
I ended up with some leftover cake, and you probably will as well. Store it in an airtight container in your fridge, and get creative with some layered desserts!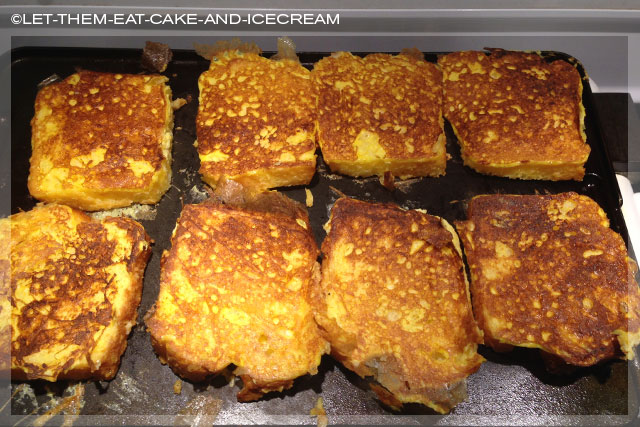 Golden brown goodness!
Click through for recipe and instructions